We're passionate about one thing... Your waste management
Greenchem is a hazardous waste management specialist. Founded in 1997, we provide holistic waste management for the regional downstream oil, petrochemicals and specialty chemicals sectors.
Our services include the collection, extraction, recycling, treatment and disposal of waste oil and specialty chemicals, industrial services, as well as petroleum storage tank cleaning.
This holistic waste management approach is built into our business model, for a win-win-win situation for our customers, the environment and our business.
Through our responsible recycling process, we salvage and reuse the refined oil and solvents so that we can deliver a cost advantage over pure disposal alternatives.
This also means minimizing the amount of waste that is released into the environment through landfill disposals or incineration.
We are proud to service the region's largest oil and gas companies. Where safety and efficiency directly impact their bottom line, we have to be on the ball when working on projects through strict safety, environmental and time compliances.
Safety Compliance
Hazardous waste material is volatile and must be handled with maximum care, thus we hold occupational health and safety regulation with utmost regard.
Staff Training We hold rigorous training programs to keep our staff updated on the latest skillsets required to operate our machinery. This ensures that safety is always top of mind for our staff.
Efficiency Commitment
We know that time has a direct impact on our customer's bottom line, so we work with maximum efficiency to ensure minimum downtime for our customers. We possess years of experience and technical expertise, thus we will never need to cut corners to get the job done quicker!
Environmental Compliance 
Spent oil and chemical waste is extremely harmful when released untreated into the environment. Dumping of raw waste such as sludge can lead to toxic chemicals filtering through the earth and into our water ecosystems.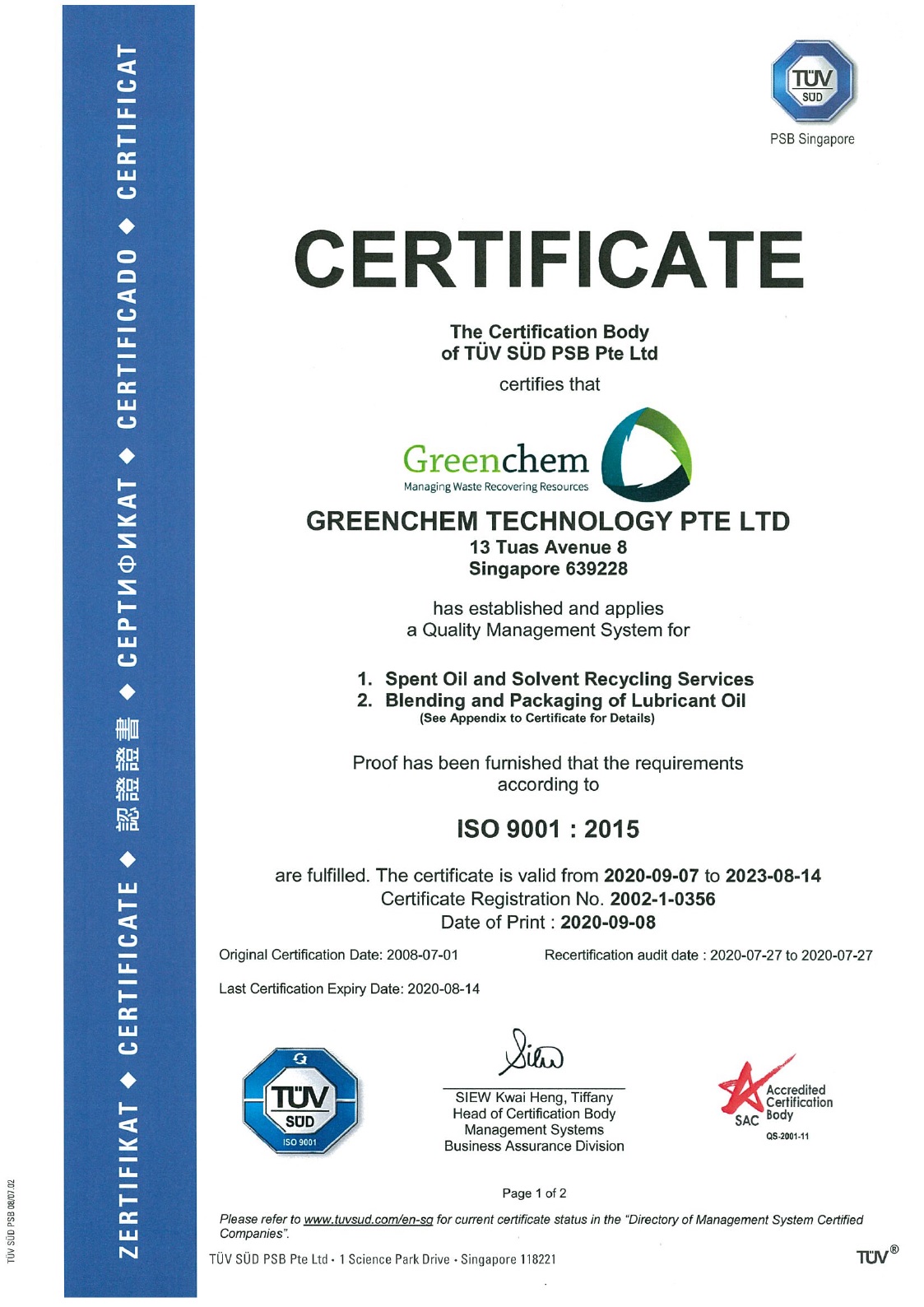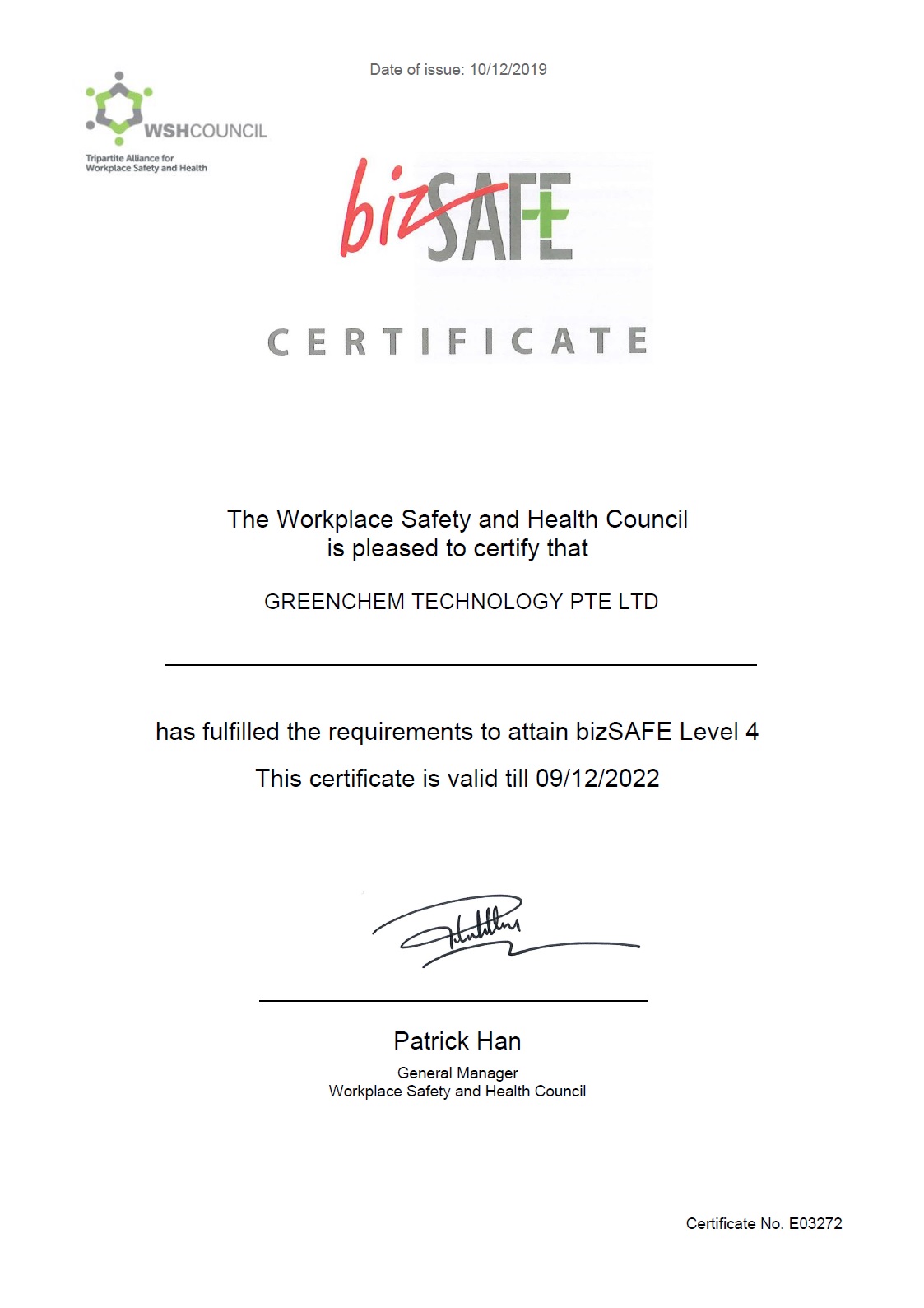 Greenchem bizsafe Level 4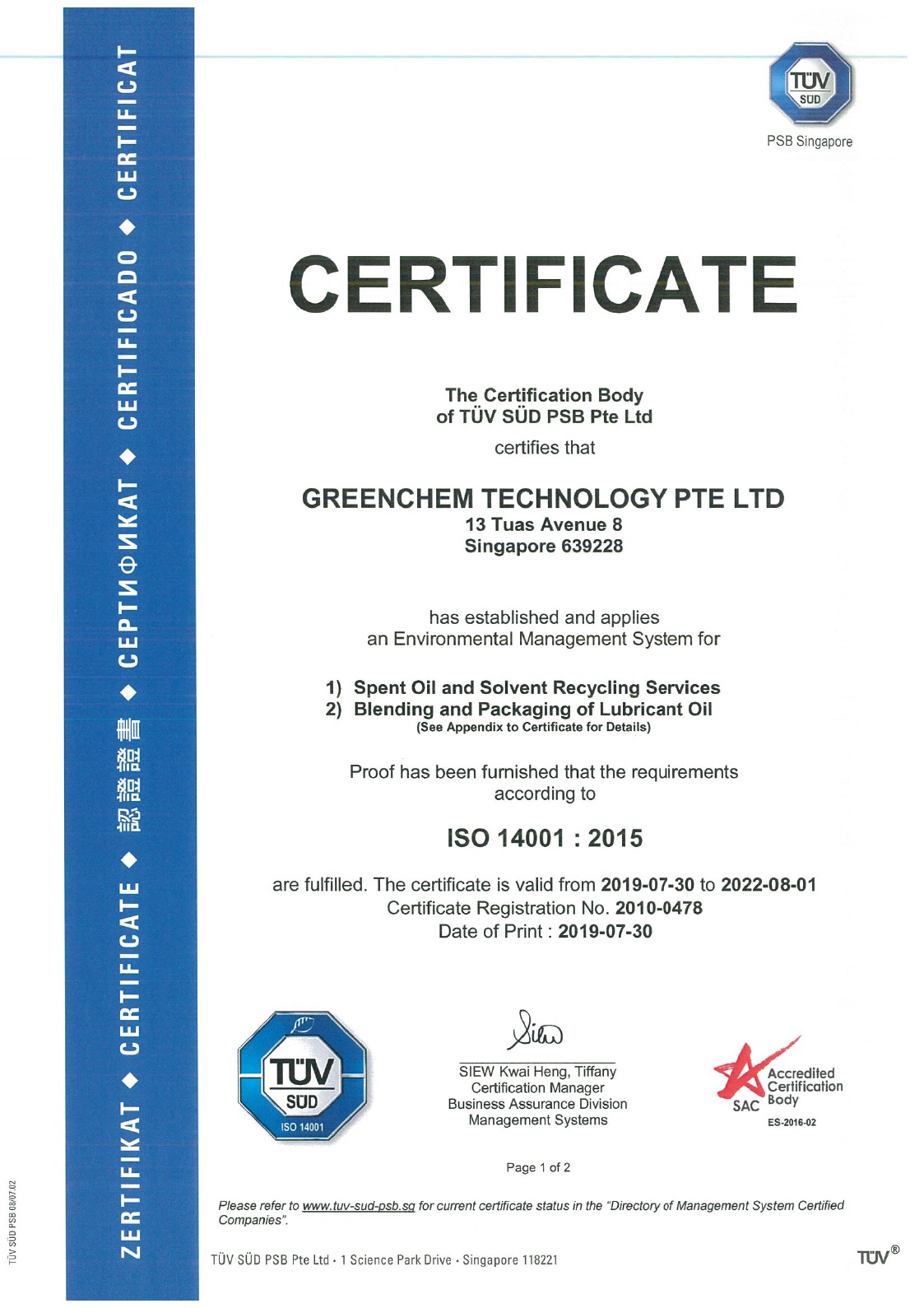 We strive to create a cleaner environment through the responsible management of waste oil, petrochemicals and specialty chemicals.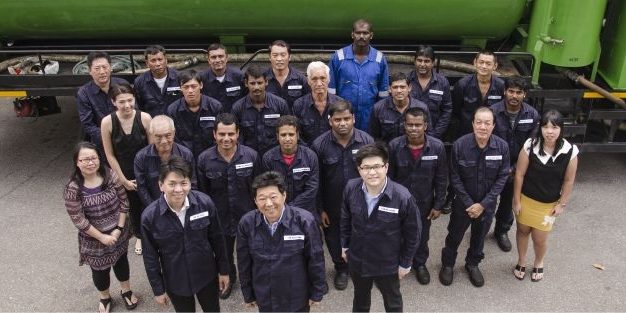 Greenchem aims to be the preferred partner for waste oil, petrochemicals and specialty chemicals management in the region, through delivering quality services, which have a positive impact on the environment.
Quality
We strive to provide the best in the market through always delivering consistent quality services that exceed our customers' expectations
Integrity
We are proud to conduct our business with integrity, through operating with honesty and virtue.
Conscience
We are conscious that our operations impact the environment and take responsibility for our actions.
Reliability
We are committed to ensuring you can count on us to get any job done, anytime.
Commitment
We are committed to delivering our best efforts in order to get a job done well.
Development
We strive towards on-going improvement, through the development of our processes, products and people.
Statement of Quality and Environmental Policy
GCT is committed to establishing the Quality and Environmental Management System (QMS) that meets the requirements of ISO 9001:2015 QMS Standard and ISO 14001:2015. We will implement and maintain the QEMS for spent oil solvent recycling and lubricant oil manufacturing.
We are committed to strive for continual improvement in our process operations and product Quality and Environmental by continually improving the QEMS. We will understand thoroughly our customer requirements and attain total customer satisfaction, pollution prevention, and protecting the environment. We will also perform our best to achieve product quality, consistently and economically in a safe working environment.
Statement of Safety Policy
We are committed to a "Zero Injuries" policy, meaning we have zero tolerance to injuries of any form. We take all measures to ensure that your safety is our responsibility
We comply with the terms of all applicable Workplace Safety and Health Council including local laws and any applicable subsequent regulation.
We provide a safe and friendly working environment, safe handling equipment, and clear information to every staff member.
We provide continuous and updated training on personal protection procedures and equipment.
Where risks to safety or health are to be assessed under any regulation, we will ensure that the assessment is carried out and that all necessary actions will be implemented.